Atnaujinta Trečiadienis, 26 Spalis 2011 07:12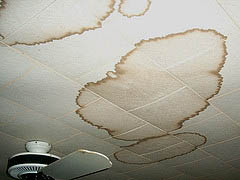 Kiekvienas statybinis defektas bado akis, ypač jei jis akivaizdžiai matomas - darko bendrą vaizdą, sudaro prastos būklės būsto įspūdį. Vienas tokių defektų - dėmės. Apžvelgsime kelias dėmių priežastis, bei kaip jas pašalinti.
Drėgmės dėmės
Jei kada nors jūsų butą užliejo iš aukščiau (stogas kiauras ar kaimynų santechnika netvarkinga), jūs patyrėte, kad nesvarbu, kiek kartų dengsi dažais tą pačią vietą ar kiek sluoksnių tapetų klijuotumėte, gelsva dėmė (kur anksčiau bėgo vanduo) visada prasimuš kiaurai.
Vienintelis sprendimas šiuo atveju yra panaudoti arba specialius tam skirtus dažus, arba paprastus aliejinius dažus. Po to jūs galėsite uždažyti šią vietą įprastais sienų ar lubų dažais.
Šiuos dažus, paslepiančius dėmę, galite pasidaryti patys tokiu būdu: sumaišote bet kokį aliejinio pagrindo gruntą su blizgiais aliejiniais dažais (1:1).
Jei vanduo sunkėsi į sienas ar lubas kurį laiką, gali atsirasti grublėtos dėmės, gumuliukais atšoka dažai ir net tinkas. Perbraukus ranka, girdimas sausas šiugždėjimas. Tokių dėmių kaltininkas – iš mūro išeinanti druska. Garuodamas vanduo iš mūro šias druskas iškelia į paviršių – galima vieliniu ir minkštu šepečiu nuvalyti jas, tačiau dažniausiai neilgai trukus jos vėl iš naujo susikaupia ant to paties paviršiaus.
Tokiu atveju, žinoma, pirmiausia reikia pašalinti priežastį ir įsitikinti, kad vanduo tikrai nebepatenka į mūrą. Tuomet panaudojame neutralizuojantį druskas cheminį preparatą.
Paprastai, jei siena pažeista stipriai, norint tinkamai sutvarkyti tokią vieta, reikia visiškai pašalinti tinko sluoksnį, iki plytų. Gipsiniu tinku tinkuoti tokią vietą nepatartina – reikia naudoti specialų arba kalkių – cemento tinko mišinį.
Dėmės lauko sienose – dėl druskų ir kalkių
Mūro sienose (ypač išorinėse) neretai pasitaiko baltos dėmės. Šios dėmės susiformuoja veikiant vandeniui, reaguojant su natūraliomis druskomis, ištirpusiomis mūro skiedinyje ar pačiose plytose. Druskos tirpsta vandenyje ir vandeniui garuojant iš sienos, pernešamos į mūro išorinį paviršių.
Paprastai taip atsitinka naujuose namuose – statybų metu mūras nebuvo tinkamai apsaugotas nuo drėgmės, o darbams pasibaigus – sienos ėmė džiūti ir vanduo garuodamas pernešė druskas į išorę. Su vieliniu šepečiu nuvalius, jos nebeturėtų atsirasti. Tačiau, jei kur nors nesandarūs lietvamzdžiai, padarytos klaidos projektuojant (ant sienos patenka daugiau kritulių nei normaliai).
Tokiais atvejais reikia išsiaiškinti priežastį ir ją pašalinti. Pašalinus priežastį, galima panaudoti specialų cheminį preparatą druskoms neatralizuoti, tačiau jis suveiks tik tuo atveju, jei:
daugiau vandens į mūrą nebepateks;
jei šį preparatą galima panaudoti tiesiai ant mūro (tinko, plytų, skiedinio, akmens) – per dažų sluoksnį jis nesuveiks;
esame tikri, kad tai būtent druskų sukeltos dėmės, o ne dėl kitų priežasčių.
Paskelbė NTmeistrai.lt - visi meistrai vienoje vietoje: santechnikai, elektrikai, staliai, apdailininkai, dažytojai, tinkuotojai, betonuotojai ir kt.
Kitos priežastys:
kiauras lietaus nuvedimo lovelis arba vamzdis;
besiskverbianti drėgmė – dėl prasto (byrančio) skiedinio;
dėl kalkių, naudotų maišant skiedinį ar dėl tam tikros rūšies molio, naudoto gaminant plytas
Geriausias druskų ir kalkių sukeltų dėmių (išorėje) valiklis – laikas. Natūralūs procesai, laikui bėgant, jei siena tinkamai apsaugota, pašalins dėmes. Jei šių druskų ar kalkių susikaupė nemažai, galime panaudoti vielinį šepetį ir patrinti. Po to reikėtų minkštą šepetį panaudoti nuvalant druskų dulkes. Rūgštiniai tirpalai ir pan., priemonės – tik laikina priemonė, nes šios druskos susigers į mūro poras ir po kurio laiko vėl atsiras išorėje.
Mūro skiedinio dėmės
Pagrindinė priežastis – neitin geros kokybės mūrininkų darbas ar lietus, užėjęs atliekant mūro darbus. Lengviausia pašalinti naudojant rūgštinį tirpalą (druskos rūgštį) – galima įsigyti bet kurioje statybinių prekių parduotuvėje. Perskaitykite naudojimo instrukciją ir užtepkite skiestą arba ne, po kurio laiko nuplaukite. Būkite atsargūs dirbdami: rūgštis – agresyvus reagentas (naudokite pirštines ir kitas apsaugines priemones). Dideliems skiedinio gabaliukams pašalinti naudokite mūro kaltus ir patrinkite vieliniu šepečiu.
Panašūs straipsniai:
Įvertinkite šį straipsnį:
( 4 balsai )