Atnaujinta Pirmadienis, 08 Kovas 2010 10:17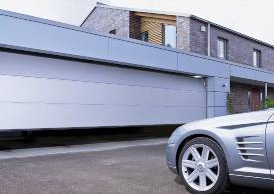 Statistinė lietuvių šeima turi porą automobilių. Taigi, statantys naują namą, kaip taisyklė, įsirengia dviviečius garažus. Tačiau naujakurių šeimos, tik kurį laiką pagyvenę naujuosiuose namuose, supranta, kad šiek tiek apsiskaičiavo. Kur laikyti mopedą, keturratį, motociklą, nekalbant apie vejapjovę ir vaikų dviračius? Ar vaikai galės iš garažo pasiimti dviratį, jei abu automobiliai tuo metu yra garaže? Dažnai į šiuos klausimus teigiamo atsakymo nėra.
Hörmann sukonstravo ir pagamino naujus ypač plačius vartus. Šie segmentiniai LPU 40 XXL garažo vartai yra net 6,5 m pločio ir turi visas geriausias įprastų vartų technines savybes. Tai daugiau nei reikia dviems automobiliams saugiai ir patogiai įvažiuoti į garažą – be baimės subraižyti automobilio šonus čia bus galima įvairuoti ir kitą dviratę ir keturratę laisvalaikio, sodo ir namų ūkio techniką. Be to, naujųjų vartų segmentų dangos įvairovė leidžia priderinti vartus prie namo fasado apdailos. Vartų automatinė pavara lengvai valdoma nuotoliniu pulteliu – tai patogu lyjant, taip pat ir saugu: iš automobilio išlipama po to, kai įvažiavus į garažą vartai užsidaro.

Publikavo "Hormann Lietuva"
www.hormann.lt
Įvertinkite šį straipsnį:
( 2 balsai )